Aqua Elite I RO System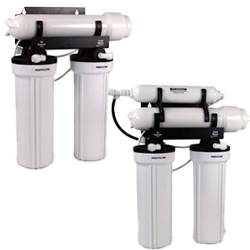 Aqua Elite I RO System RO Replacement Filters

The Aqua Elite I RO System by Nelsen Corporation features updated styling over the Aqua Classic with white filter housings and a white water storage tank. The system also includes Reverse Osmosis/Activated Carbon purification assembly, 3.2 gallon steel tank, a long reach non air-gap faucet, automatic shut-off, and an installation parts kit. The Aqua Elite I RO features a 5 micron sediment filter, a 5 micron carbon block pre-filters, a RO membrane of varying capacities depending on the system, and an optional additional stage of a 5 micron inline GAC (Granular Activated Carbon) filter. There is additional stage available with optional ECF (Extended Contact Carbon Adsorption Filter) providing additional water treatment. Please note: Chlorinated Water and Carbon pre-filtration is required when used with chlorinated water. The parts below are compatible with your Aqua Elite RO System.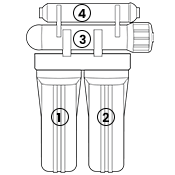 Sediment Filter (93023) - Replace every 6-12 months or as needed

Carbon Block Filter (OMB934-5M) – Replace every 6-12 months or as needed

RO Membrane TFC (See below for options) – Replace every 24 months or as needed

Optional: for use in AEI-TLC D models - (CL10ROT33-BB) – Replace Every 6-12 Months
Helpful Filter Information

Not all filters have the same replacement schedule. Replace the RO membrane filter every two years. Replace all other filters every 6-12 months. Help keep your system sanitary by never using filters longer than 12 months, except the RO membrane filter, regardless of how much water you use.