Axeon LP-700 RO Light Commercial System 700 GPD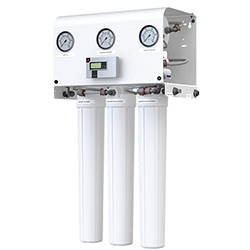 Axeon LP-700 RO Light Commercial System 700 GPD Replacement Filters

The Axeon LP-700 Reverse Osmosis System is designed for pump-less light commercial applications up to 700 gallons per day (at a line pressure of 70 psi and max TDS of 250 ppm). System comes ready for immediate on-line service, minimal set up and little adjustment. The simple, high quality and proven design of Axeon RO Systems have made these systems become known as turn-key, cost effective and reliable water purification systems.


Sediment Filter (200626) – Replace every 1-6 months as needed
Helpful Filter Information

Not all filters have the same replacement schedule. Replace the RO membrane filters every 2-4 years with intermittent cleaning, depending on use and water contaminant levels. Replace sediment and carbon pre-filters approximately every 3-9 months when the differential between the pre-filter inlet and outlet gauges is 10 psi or greater.